Following an appeal to registered CCM Tools users, we have had several new short case studies or User Stories.  These provide a great snapshot of the kind of activity that people new to the Tools have engaged in.
What is really interesting about these new posts is that they range from small scale 'proof of concept' experiments  to larger projects supporting policy changes or streamlining 'business as usual' work flows.  So if you are new to the CCM Tools they are a great place to start to get a taste for the potential benefits they can provide your institution.
STOCK WEEDING
A user new to CCM at The University of Manchester undertook a small project checking 3 shelves of books in store, in order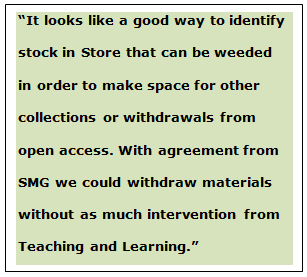 to test the potential for identifying possible items to withdraw.  The criteria used were to highlight those items held by 9 or more libraries as possible candidates for disposal.  The experiment indicated a potential for streamlining the decision process.
Another project reported at Manchester was use of the Tool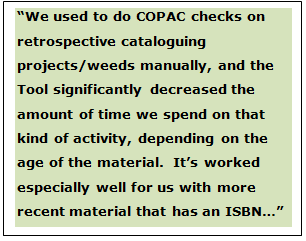 s to support a 'business as usual' annual weed of open shelves for withdrawal or transfer to store. Previously checks against Copac were made manually so the CCM Tools saved considerable staff time.
At Edinburgh University the Tools were used with reference to the SCURL collaborative retention policy to assess stock currently in an off- site store, for retention or disposal.  By enabling staff to identify unique copies in Scotland, material could be prioritised for possible transfer to the Main Library collection.
IDENTIFYING COLLECTION STRENGTHS
Nottingham University reported that
the Tools were used to confirm that the library had a significant subject collection developed 20 years ago which had not previously been formally recognised.  Anecdotal evidence from academics about this was confirmed by CCM data.
At St. Andrews University the Tools were used to assess a significant donation to the library, confirming its value.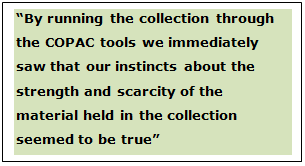 The Deputy Collections Manager sums up her conclusions about the value of the Tools for collection analysis: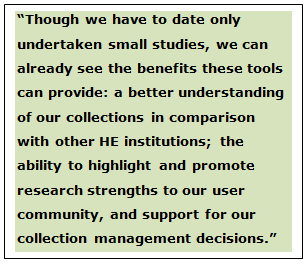 ENHANCING STOCK DATA
Warwick University has been working on developing a database of information from a variety of sources to help manage stock.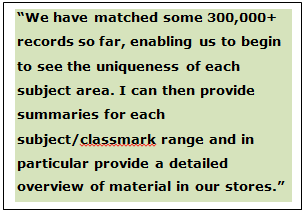 Data from their reading list system, purchase and publication dates, and usage data, has now been enhanced with information from the CCM Tools identifying the uniqueness of material.
SPECIAL COLLECTIONS
Again at Edinburgh University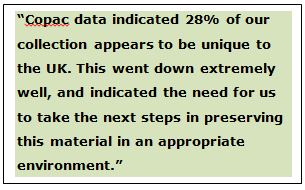 CCM Tools were used to provide supporting information for a major policy change in the area of Special Collections: namely a change in transfer criteria from a publication date of pre-1850 to pre-1900.
As these short case studies show, the Copac Collection Management Tools can support decision making in a range of areas, and help users to get the data they need quickly and efficiently.