Following on from last summer's successful CCM Introductory Events, we ran two more community events in Manchester and London this July.  The purpose of the events was to give both new and more experienced CCM users an opportunity to share experience, discuss the broader national context in which the Tools operate and to engage in the ongoing development of the Tools as we move into a new phase of development.
Each event began with a series of case studies from users covering a broad range of experience from getting started to complex ongoing evaluation work.  Each of the presenters has kindly agreed to us making their slides available below:
Helen Faulds, University of St Andrews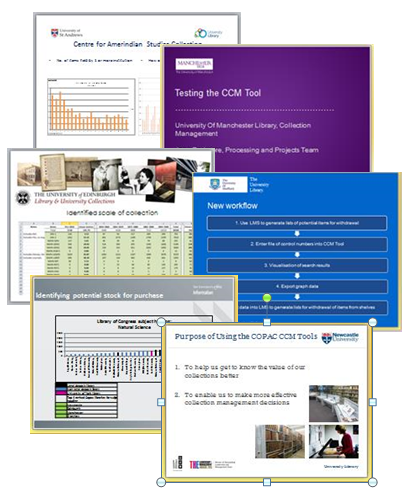 Jane Podmore, University of Manchester
Gary Ward, University of Sheffield
Ruth Elder, University of York
Melanie Wood, University of Newcastle
Laura Macpherson, University of Edinburgh
Jennifer Prada, presenting on behalf of David Clover, Senate House Library
Following on from this, Ben Showers from Jisc spoke about the National Monographs Strategy: identifying CCM as a vital piece of the strategic jigsaw in this broader context.  The Strategy looks at developing a national approach to the lifecycle of monographs, and Ben provided an update on the background, methodology, ideas and next steps for this area of work.
A stimulating group discussion followed this, looking at the broader questions identified in Ben's session, specifically how we can develop a 'trust infrastructure' to ensure that institutions can  trust the Tools and each other to work towards enabling robust national agreements and policies for monographs.
After lunch Shirley Cousins, Copac Service Manager gave an update on the new Copac database and how the enhancements will impact on CCM Tools, including a glimpse of the new Copac user interface which was warmly welcomed!
This was followed by a chance for hands-on use of the Tools, either with an CCM-intro-handson-0714 for new users or an opportunity to look into CCM-dedup-hands-on-0714 in more depth.  Delegates also contributed to a focus group, and were asked to contribute their comments, feedback and suggestions on how we can improve the CCM Tools.  We also asked for their ideas for enhanced support features which would help users to get started with using the Tools and continue to support ongoing use to enable them to become embedded in institutional workflows.  The CCM team found the content of these discussions invaluable to inform our future plans.
Thanks to everyone who contributed to and participated in the events, for engaging so positively in all the sessions.  We hope by keeping in touch with each other, delegates will become part of a supportive community of CCM Tools users as they go from strength to strength.